The mission of Duke Kunshan University is to create a highly selective, innovative and international university with a solid Chinese foundation that will assist our students and community members in their search for a purposeful and fulfilling life. In the last decade, Duke University and Wuhan University, two prestigious universities in the United States and China, have worked with Kunshan city to explore the idea and practice of educational innovation — helping cultivate students into future leaders based on the concept of being rooted in the present while looking to the future, being rooted in China while facing the globe, and being rooted in helping students grow while preparing them for success. We look forward to working closely with you over the next 10 years to build a joint-venture university model that combines knowledge, expertise and technology to pursue the truth, serve society, advance humanity and create the future together.
In its first 10 years, Duke Kunshan University has ascended to a level that places it among the world's leading global universities. It has achieved that largely through a unique curriculum that prepares students to become future leaders, research projects that tackle major challenges of this century, and initiatives to cross cultural and national boundaries. DKU's entrepreneurial spirit — reflected in our growing student body, expanding areas of study and doubling in size of our beautiful campus — is now embedded in our DNA. None of this could have been possible without the combined efforts of our community, as well as the vision, support and cooperation of DKU's partners — Duke University, Wuhan University and the city of Kunshan. As we embark on our second decade, we could not be more excited about what lies ahead for this institution and its people as we strive to make the world a better place.
As we celebrate the 10th anniversary of Duke Kunshan University, we can all take great pride in what this young university has achieved in a relatively short period of time. Duke Kunshan's founding partners envisioned a university that would combine new and innovative practices with time-honored tenets of higher learning and scholarship, in a global setting. That vision has now blossomed into a vibrant community of creative, problem-solving and resilient students, faculty and staff who are deeply committed to pursuing education and scholarship to address the most pressing challenges of our time.
Duke Kunshan's students and faculty are carrying out extraordinary work across a range of fields — from the humanities, to global health and medical physics, and beyond. They are advancing knowledge, connecting disciplines and contributing solutions to some of the world's most complex challenges. And the faculty's dedication to the craft of teaching, and to students' intellectual development and engagement, is evident in their students' many achievements.
In 10 short years, Duke Kunshan has become an academic home of choice for students and faculty members who are eager to be part of its global community and scholarly mission. As Duke Kunshan begins its second decade, I hope you will join me in celebrating its growth and success, and all that it is poised to achieve in the future.
Like a sapling, we have witnessed Duke Kunshan's tender sprout blossoming into a thriving institution over the course of 10 fruitful years. As dream chasers, we have been part of a decade-long journey as Duke Kunshan fearlessly pioneers, building its strength on the path of innovation and excellence. With unfurled sails, we have propelled Duke Kunshan forward, harnessing the winds of change over the course of 10 remarkable years to conquer vast seas of possibility. Yesterday, Duke Kunshan attracted thousands of people who came from around the world to explore, build and put into practice their dreams here at this university. Through their concerted efforts and support, Duke Kunshan has woven remarkable achievements into the fabric of higher education. Today, infinite horizons beckon as we navigate with unwavering belief. Duke Kunshan radiates vitality and ambition, standing at the cusp of the future and basking in the unity and dedication of all stakeholders. We extend our best wishes and firmly believe that Duke Kunshan, a joint-venture university rooted in the fertile soil of China, will continue its journey of quality-driven development with greater determination and aspirations at this new starting point, and contribute "Duke Kunshan Wisdom" to the realm of Sino-foreign educational cooperation.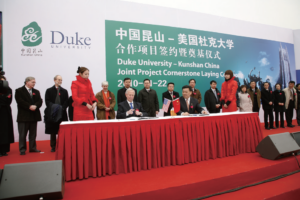 Duke University signs a cooperation agreement with the Kunshan government to establish Duke Kunshan University. A groundbreaking ceremony is held at the site of the new campus, attended by the then president of Duke University and the leader of Kunshan.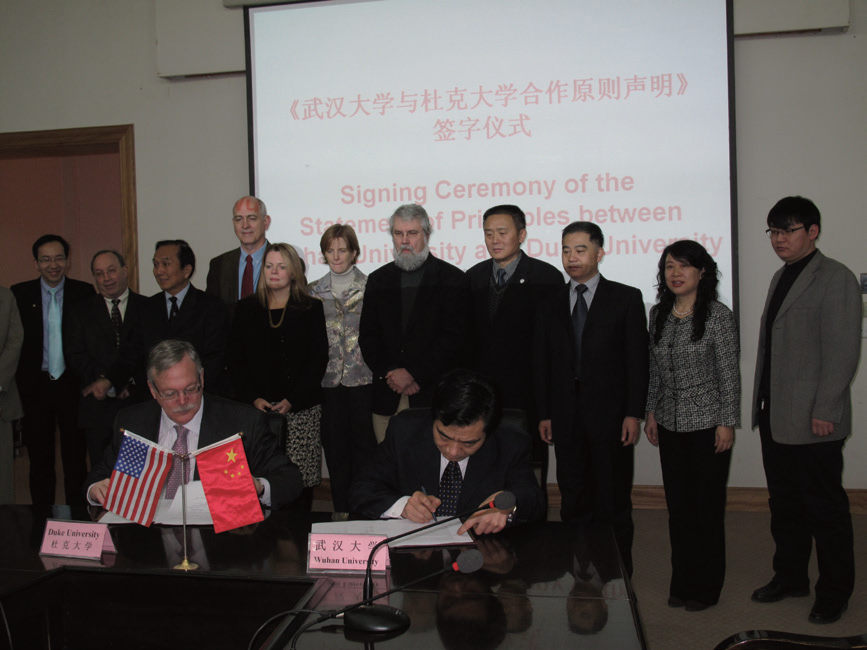 Duke University and Wuhan University sign a statement on cooperation principles, establishing Duke Kunshan as a joint-venture between the two institutions.
China's Ministry of Education grants preliminary approval for the creation of Duke Kunshan University. The unveiling ceremony is held in December.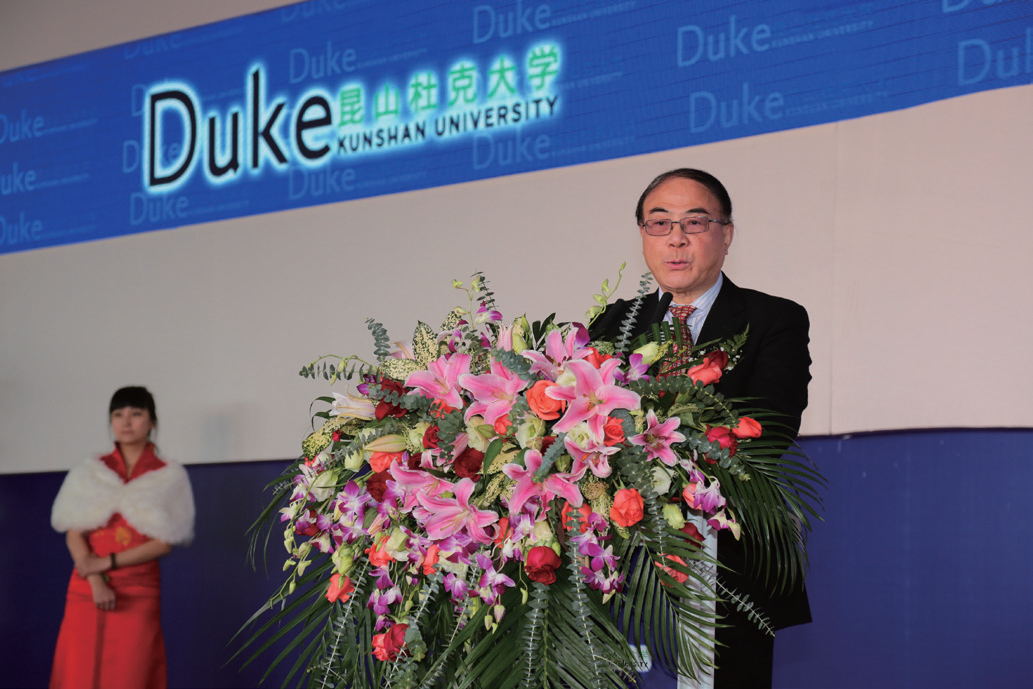 Jingnan Liu becomes the first chancellor of Duke Kunshan.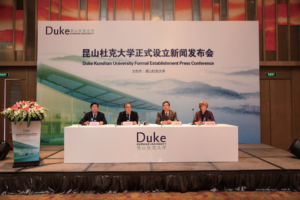 China's Ministry of Education grants final approval to Duke Kunshan University.
[dflip id="131" ][/dflip]